Overall track length – 69 km
Technical difficulty – 3/10
Vegetation contact – 1/10

The first association of the word Kopaonik is that of skiing, but Kopaonik is actually much more than a ski resort – it's a national park, the home of many rare plant and animal species, a place where history blends with beautiful, unique, wild nature. This track takes you through the most striking parts of Kopaonik, along roads known only to those who are true adventurers and fans of this mountain range…
Here is an answer to the question what to do on Kopaonik when there's no snow there! Besides the well known tourist resort at an altitude of some 1750 m, a trademark of Kopaonik are also it's endless pinetree forests of it's flat plateau, with it's wetland reservations and Samokovska river which is lazily winding though the shade of the tall trees before disappearing into it's wild canyon. There's also the Goat's rocks scenic viewpoint, as well as the Barska river valley. Semeteš lake with it's unique two floating islands is also a place that shouldn't be missed, just as the Jelovarnik waterfall, once believed to be the highest in Serbia, and endless pastures covering the ridges from which you can see half of Serbia. And when you just conclude that you've seen it all, you'll discover the astonishing remains of an early christian church quite close to the highest peak of Kopaonik! Anyway, there are definitely sufficient attractions to fill not only your ski trip, but also your summer vacation.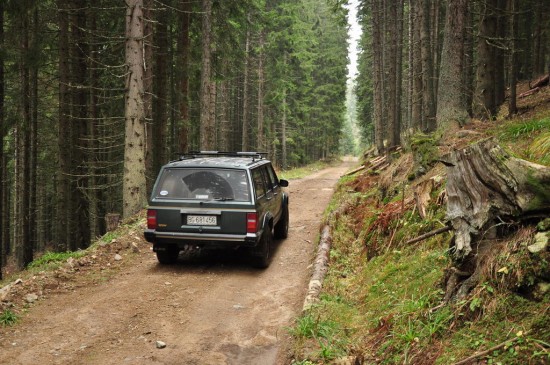 When 4×4 adventures are concerned, Kopaonik offers something for everyone – from the adrenaline junkies with top equipped offroad rigs, to tourists who just want to enjoy nature and silence, without taking any risks. The trail that we've prepared for you can be mastered by anyone, no matter of skill and vehicle. You'll get a chance to pass Kopaonik on the sideroads (at least half of those unpaved), and in a very dynamic route connect most of the natural and cultural POIs that tourists usually visit on Kopaonik. You'll see some well known picnic spots, some quiet places known only to those who dare to drive further away from civilization, but also you'll se the remains of a 5th century church on Crkvine, as well as a famous gaysir, one of the highest waterfalls in Serbia and another old sanctuary deep in the forest at Metođe. All that packed within a 70 km relaxed ride in your 4×4 vehicle.
Početak treka je na raskrsnici prilaznog puta hotelu "Grand" i glavnog asfaltnog puta koji spaja Jošaničku Banju i Brzeće, odakle kreće ka Jošaničkoj Banji. Nakon 9,1 km laganog spuštanja putem odličnog kvaliteta kroz guste šume smrče, vreme je da siđete s asfalta kod izletišta Kadijevac na Samokovskoj reci. Na samom početku odličnog makadamskog puta (širen i nasipan 2008. Godine), s desne strane, naići ćete na klupice i nadstrešnice, gde možete upriličiti kraći odmor, dok Samokovska reka živahno skakuće neposredno pored vas.
Od te tačke nastavljate da pratite glavni makadamski put, ulazeći sa svakim kilometrom u sve gušću senku stoletnih stabala i dublje u tajne ravnog Kopaonika. Nakon 3 km, kod Jeličićke strugare, moraćete da premostite Samokovsku reku tako što ćete je pregaziti, jer mosta nema. To ipak neće biti nikakav problem i vrlo brzo ćete, gotovo neprimetno dobijajući visinu, početi da izbijate na proplanke zapadnih padina Gobelje, prošavši pored Rvatskih bačija do Mekih presedla. Nemojte da propustite priliku da zastanete na trenutak i natočite izvorske vode na Likinoj česmi, koju ćete videti na 16. kilometru puta, s desne strane. Na Mekim presedlima, posle 17,1 km puta, okrećete oštro desno, pri čemu se u prvi mah na livadi put i ne vidi baš najbolje, ali ćete jasno uočiti gde se on useca u četinarske drvorede. Dolazi vreme za vidike, pri čemu ćete s desne strane imati u vidokrugu vrhove Vučak i Kukavicu, a sa svakim kilometrom koji osvojite pred sobom ćete sve jasnije videti najviše vrhove Kopaonika, na čelu sa 2017 m visokim Pančićevim vrhom, koji ćete prepoznati po okrugloj beloj kupoli radara.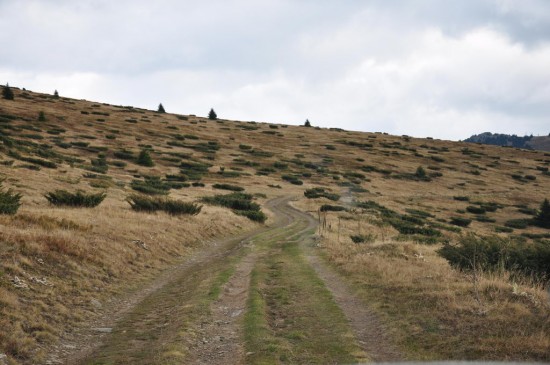 Put obroncima Gobelje izvešće vas na Jaram, skijašima dobro poznato čvorište staza, gde ćete preseći i asfalt. Od Jarma hvatate donji put, koji ulazi u šumu ispod žičare Karaman. Ovo je jedna kratka, ali atraktivna vožnja solidno prosečenim šumskim putem, na kome će vaš terenac moći da demonstrira potencijal za savladavanje jakih uzbrdica – strmina kada od polazne stanice žičara Gvozdac i Ledenice krenete da se penjete ka izlaznoj stanici žičare Bela Reka 2 je takva da ćete se lagodnije osećati ako posegnete za reduktorom.
Od Bele Reke put vas dalje vodi vrhom glavnog grebena Kopaonika, preko Karamana do prevoja Pajino Preslo, gde se razdvaja put obroncima Pančićevog vrha od onoga koji se spušta u dolinu Duboke. Vi nastavljate putem koji lagano penje severoistočnom padinom "Pančića", dižući vas do skoro 1900 m nadmorske visine. Nakon što presečete trasu četvorosede žičare Duboka, pri kraju 29. kilometra puta, naići ćete na raskrsnicu. Vas tu zanima levi, odnosno donji put, ali tek nakon što napravite malu ekskurziju do Nebeskih stolica, jedinstvenog arheološkog lokaliteta sa crkvom iz 5. veka, do koje stižete nepunih 2 km dalje nastavljajući gornjim putem.
Kada se vratite na donji put ka vodopadu (imate i putokaze i planinarsku markaciju), dolazite u priliku da uživate u jednom od najatraktivnijih terenskih spustova na Kopaoniku, od čijih prizora će vam na mnogim mestima zastajati dah i osetićete potrebu da isključite motor i uživate u lepotama predela. 600 m niže, posle oštre leve krivine pred kraj 37. kilometra puta, imate mogućnost izbora – možete krenuti nešto lošijim putem desno, čije se skretanje sa glavnog puta praktično i ne vidi (ako treba izađite iz automobila i prošetajte da biste videli kuda trasa prolazi), ili produžiti do spoja sa ostatkom mreže i izvesti ovu trasu po radaru. Ova prečica bi vam uštedela oko 6 km puta, ali bi zbog strmine, neravnina i mestimičnog rastinja mogla da bude izazov za vas i vaš automobil, zato dobro razmislite.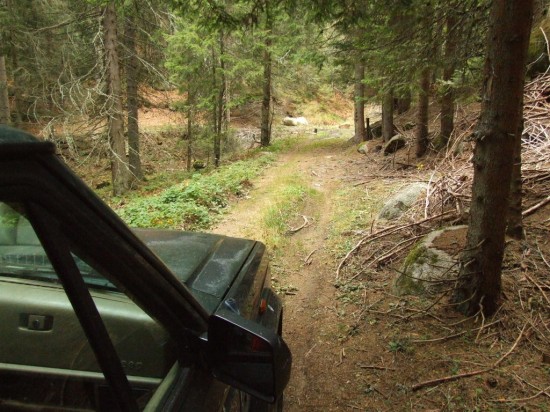 Nakon posete Jelovarniku sledi povratak na Kopaonik, odnosno tehnički i navigaciono lakši deo puta. 5 km od Jelovarnika makadam izbija na asfalt kod policijskog punkta na Mramoru, odakle se spuštate za Brzeće, a zatim skrećete levo, glavnim putem prema turističkom naselju na Kopaoniku. Na pola puta do gore, na oštroj krivini koja se nalazi tačno na 6,6 km od raskrsnice u Brzeću, videćete zaključanu rampu, zbog koje nećete moći da skrenete na makadamski put koji bi vas približio gejziru i crkvici Metođe. Ako ste raspoloženi da malo protegnete noge, parkirajte tu i prošetajte tih par kilometara koliko vas deli od Metođa. Staza je dobro obeležena, tako da ne možete da zalutate. Treba vam samo još desetak kilometara asfaltom da biste zatvorili ovaj živopisni krug po Kopaoniku, viđenom iz drugačije perspektive.
Napomena:
Područje Kopaonika je Nacionalni park i kao takvo podleže posebnom režimu i određenim ograničenjima kretanja. Kretanje po NP je dozvoljeno individualno u rekreativne svrhe, držeći se šumskih puteva, izuzev u delovima Parka koji su pod prvim stepenom zaštite. Za sve informacije o NP Kopaonik, kao i kontakt sa upravom NP, najbolje je da posetite web sajt NP Kopaonik.